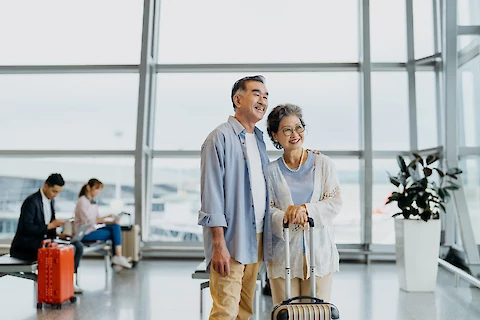 When everything goes smoothly, travelling both locally and internationally can be a wonderful experience. There are still a few dangers, though, that might ruin the entire journey. The entire trip could be jeopardised by occurrences like misplaced luggage, robbery, missing travel documents, or any medical issue.
Furthermore, the expenditures and efforts involved in recovering from these catastrophes can be expensive and might just make things worse. Senior citizens may not be in adequate physical shape to handle such events effectively if they occur. As a result, many people now choose senior citizens' insurance for travelling abroad to travel worry-free.
Here is everything on what travel insurance is for senior citizens, along with advice on how to pick the best plan for your loved ones.
Travel protection for senior citizens
Travel insurance providers offer plans that can accommodate senior citizens' needs and address age- and health-related risks that might not be covered by a typical travel insurance plan. These travel insurance policies offer a number of medical and hospitalisation benefits, as well as protection against the recurrence of pre-existing conditions. Doctor appointments, insurance for lost luggage, ambulance services, critical care unit treatments, surgical care, and other advantages are among them. *
Why you should choose senior citizen travel insurance
Plans for senior citizens provide more travel insurance coverage than typical individual travel insurance plans. Depending on the insurance provider, elderly people as old as 95 years old can obtain these policies.
Since the Covid-19 pandemic broke out, some insurance providers have begun to provide older citizen travel insurance in India with added Covid coverage.
Here are some of the primary characteristics of the senior citizen travel insurance plan:
Affordable plans: A variety of plans with several modifications are offered to meet the diverse travel needs of elderly adults. These covers are quite affordable because there are so many alternatives available. You can pick from a variety of choices and go with the one that best fits your needs.
Travel assistance: A senior citizen travel insurance plan must also include thorough travel assistance. This is a crucial component. The service providers provide the elderly with much-needed assistance so they can deal with any emergencies with ease.
Protection against illness and accidents: Taking care of one's health while travelling, especially for elderly people, is a top priority. Navigating your health issues in a foreign location without much awareness of the local medical infrastructure and services can be difficult. *
Compensation for baggage loss or delay: One of the most frequent travel problems is the loss of luggage or a delay in its arrival. You can get assistance with the repayment of a portion of the cost of your luggage through the senior citizen travel insurance for abroad plan. *
Assistance worldwide: If you obtain a senior citizen travel insurance policy, the insurance provider will, through its partners, offer all necessary assistance worldwide. There are various ways to get in touch with them in an emergency, and the insurance provider will offer the required assistance.
The things to think about before buying senior citizen travel insurance
Sum assured: The majority of insurance companies provide a detailed breakdown of the sum assured for various coverages. *
Pre-existing medical conditions: Ensuring that the plan covers all pre-existing medical conditions is one of the most crucial considerations to take into account when acquiring senior citizens' travel insurance in India. There may be certain plans that don't offer such all-encompassing coverage.
Policy extension: Before obtaining this insurance plan, you should determine whether the insurance provider offers policy extension in the event that a claim arises within the policy term. *
Exclusions: Before purchasing this policy, make sure there aren't any further exclusions or limitations that might apply to your needs.
* Standard T&C Apply
Insurance is the subject matter of solicitation. For more details on benefits, exclusions, limitations, terms, and conditions, please read the sales brochure/policy wording carefully before concluding a sale.